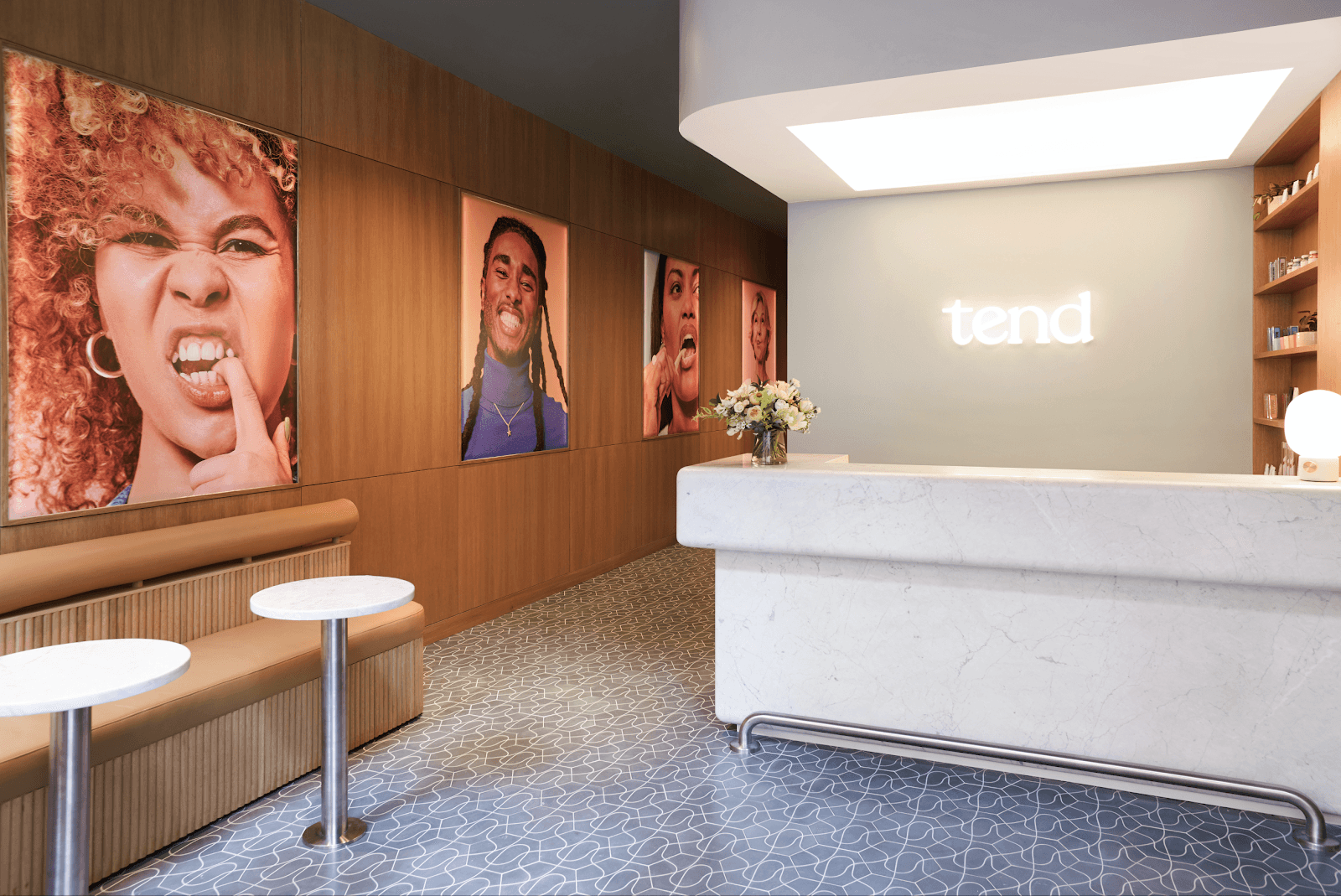 Dear Dentists
A letter from our CEO, Doug Hudson, to dentists everywhere.
Maybe you've walked by our Flatiron Studio. Maybe you've seen "Look forward to the dentist" or "A new kind of dental office" in the windows of our upcoming FiDi and Midtown Studios. Or in an ad online. Maybe you've visited our website. Maybe you're intrigued.
Who are these Tend people? They're hiring. Do I want to work for them? Do they want to hire me?
In my last post, I talked about how Tend is innovating for our guests. We want to be the first dental experience they actually look forward to. Dear dentists, today I want to talk about how we're innovating for you. We haven't just rethought dental care from the patient's perspective. We've rethought it from yours.
A beautiful place to work
Our studios are designed to soothe. Gorgeous tube lighting. Warming wooden paneling. A custom fragrance in the air. They're also designed to earn trust. Simple, encouraging hues. Framed diplomas on the walls. Screens in front of each chair so guests and dentists can discuss treatment with imaging as a common reference point. And they're designed to reframe expectations. A room just for freshening up with swishy, swirly walls. Super-friendly front desk staff. Netflix on ceiling-mounted TVs.
For you, this means calmer, more trusting patients, who are actually enjoying their experience. It also means working in a gorgeous, elegant office, equipped with a lounge where you can eat, meet, and relax.
State-of-the-art tech
Like many forward-thinking dental practices, we've invested in the latest technology. Extra-oral x-rays with 80% less radiation. Quieter handpieces. Scalers that don't require a spit bowl. We see faster, more comfortable care as key to reframing our guests' expectations about what dental can be. That means state-of-the-art tools at your fingertips.
Our investment in tech extends beyond hardware. When our guests book visits online, for example, we ask them for their insurance info and their medical history. This streamlines in-studio operations and reduces wait time, which makes our guests happier and more relaxed when you see them.
A culture of collaboration
If you're a Tend dentist with a complex case and you want input from a colleague, you have an array of resources available to you. You can consult with another dentist in the studio where you're based. You can call on the broader network of Tend dentists. Or you can turn to Dr. Marc Schlenoff, our Head of Clinical Development. Until he joined Tend this year, Dr. Schlenoff was Director of Advanced Education in General Dentistry and Assistant Professor of Prosthodontics at Columbia University's College of Dental Medicine. Before Columbia, Dr. Schlenoff was in private practice for more than 30 years with a specialization in aesthetic dentistry. He collaborates with our clinical team as a whole to make sure each of our dentists feels 100% supported.
Continuing education
Dr. Schlenoff's role includes continuing education. He's created a program, called Tend University, that keeps our clinical team up to date on all of the latest developments in science-based care. It also delves into the business side of dental. You may be the world's most incredible clinician, but you may still be able to learn something about hospitality: how to talk to guests in different consumer segments at different points in their journeys, for example. Or you may still be able to learn something about leadership: how to run a huddle, how to hold people accountable, how to do talent reviews. Combine skills like these with your existing clinical abilities, and you'll be a powerful operator.
A new win-win approach to compensation
If you're a dentist who earns a commission on procedures, your pay month-to-month may be unpredictable. You may also detect a sense of distrust in your patients that, for the vast majority of clinicians, is totally unfair. Are your treatment recommendations really in their best interests, your patients may wonder, or are they in yours?
This perceived conflict of interest can make things awkward fast. Let's say you're seeing a brand-new patient who needs work done, but they're asymptomatic. Now you have to do an internal calculation: should I bring my diagnosis up now and risk making my patient feel suspicious? Or should I wait to gain their trust, potentially delaying care to their detriment?
We're eliminating this problem with a new win-win approach to compensation. We pay you a competitive base salary with an additional bonus based on several key metrics, and factor in both production and patient happiness via Net Promoter Score (a common experience metric that measures guest satisfaction). This provides stability for you, aligns your interests with your guests', puts your guests at ease, and ultimately makes them more likely to accept the care they need.
Three common career paths
Many dentists choose between three common career paths: 1) starting their own practice, 2) working for another practice or practices, or 3) joining a dental support organization.
Starting your own practice allows you to build something from scratch, which is an extremely rewarding experience. But it will put you (on average) $475,000 in debt. And that's on top of the debt you likely already have. In 2018, the average dental school graduate owed $285,184 (a 400% increase since 1990), according to the ADA. Starting a practice also requires skills you might not have acquired in dental school: how to market, hire, manage an office, look great on social media and third-party booking sites, and so on. If you're like most dentists, you got into the field because you love taking care of people. You don't necessarily love marketing performance metrics or training front desk staff.
Working for another practice is an option. You can pay down some of your debt and hone your clinical chops. But unfortunately you're at the whim of the practice or practices you contract with, and that may mean irregular hours, or shifts at different practices on different days of the week. This route keeps your options open, but without a partnership track, it won't help you build a long-term, sustainable practice of your own. It also doesn't necessarily provide mentorship.
Joining a dental support organization can provide stability. You know you're part of a larger parent company that can do the heavy lifting when it comes to marketing and operations. But most DSOs are fully staffed in the major markets you most likely want to live in. They also tend to operate their practices as silos, so there isn't a strong culture of collaboration.
A fourth option: Tend
I want to personally offer you a fourth option. Tend is currently opening studios in Manhattan and Brooklyn, and we need outstanding dentists to build them into thriving practices. Most of all, we're looking for dentists who want to change the way dentistry is perceived. To shift the conversation from fear to anticipation. Lack of trust to confidence. Pain to comfort. So-so to out of this world. We want our guests to look forward to seeing you.
Sound like something you want to be a part of? Drop us a line
Doug Hudson
CEO and Co-Founder of Tend, the first dentist you'll actually look forward to.
Related Articles