The First App from a Dentist
Today, we're thrilled to announce a major milestone in Tend's history as a company—and in the history of dentistry. We are launching an app. This is the first app ever launched by a dental services provider—a sign of just how little the industry has invested in digital technology, and of how much room there is to grow.
When we launched Tend a year and a half ago, one of the ways we wanted to reinvent dentistry was by using technology to make it more convenient. No more calling the office to book an appointment. No more difficulty finding availability as you and the office staff verbally compare schedules. No more rusty clipboard of paperwork handed to you when you come in. No more sitting around in the waiting room filling out forms in handwriting that doesn't get a lot of practice.
A more convenient experience
With the launch of our app, we just took a major stride in that direction. In our app, you can book a visit in just a few taps. You can choose from a wide range of times at a convenient variety of locations. If you need to reschedule, it only takes a few seconds. Before you arrive, we collect your insurance information and give you our best estimate of what you'll pay. We also collect your medical information and your visit preferences, like what flavor of polishing paste you'd like and what TV show you want to watch when you come in. If your insurance information changes, you can simply open the app and update it—no waiting at a desk while someone types in a long sequence of numbers and letters. If you need orthodontic treatment, oral surgery, or cosmetic treatment, you can book a consult through the app with one of our amazing specialists.
Personal empowerment through education
Our app also teaches you more about your mouth with articles from The Gargler, our digital magazine devoted to oral health. The Gargler features expertise from our Head of Clinical Development, Dr. Marc Schlenoff. Dr. Schlenoff is a Clinical Instructor and Lecturer at Aesthetic Advantage at NYU College of Dentistry and a former Program Director at Columbia University's College of Dental Medicine.
The start of something big
The dental industry has never seen anything like this: an easy way to book and manage your visits and get tips directly from acclaimed clinicians. But the version of the app we're launching today is only the beginning. Creating a tech-enabled experience has always been key to our mission, and we plan to continue to invest deeply in our digital products. Here's what you can expect to see in our app in the near future.
Sophisticated treatment planning
Before, if your dentist recommended treatment or provided you with pre- or post-treatment instructions, that clinical information would either be entirely verbal and easy to forget, or it would only be captured in a printout and easy to lose. Soon, Tend members will have an entirely different experience. When their dentists recommend treatment, that recommendation will appear in the app. It will be accompanied by detailed information about the treatment in question, including answers to commonly-asked questions and the treatment's cost. If a member proceeds with the treatment, they'll receive pre-visit instructions in the app, and emails will remind them to view the instructions before they come in. After treatment, post-visit instructions will appear in the app as well.
Unprecedented insights into your oral health
We think of the app as a way of putting you in control of your data. Before, your data was in a paper file at your dentist's office. Soon, it will be in your hand. Want to see your x-rays? Just tap. Want to see a model of your teeth and gums with any treatment recommendations flagged? With the Tend app, you can. We're taking what used to be inaccessible and making it accessible, so that you can digest it and make more informed decisions about your oral health.
Take smarter care of your mouth
Download the app for iOS or Android and give it a spin. We'd love to hear what you think.
Tend
The first dentist you'll actually look forward to.
Related Articles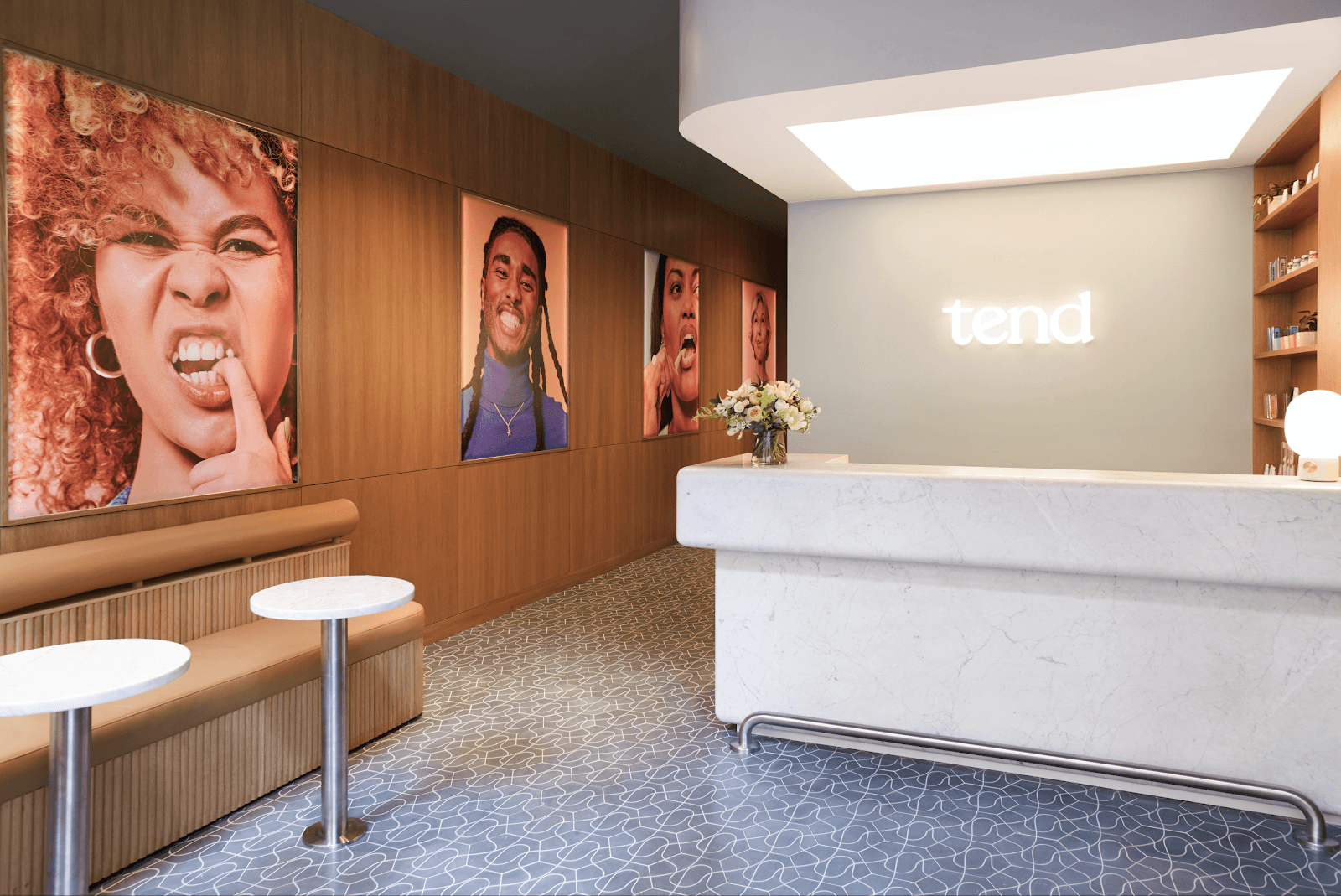 Dear Dentists
By Doug Hudson