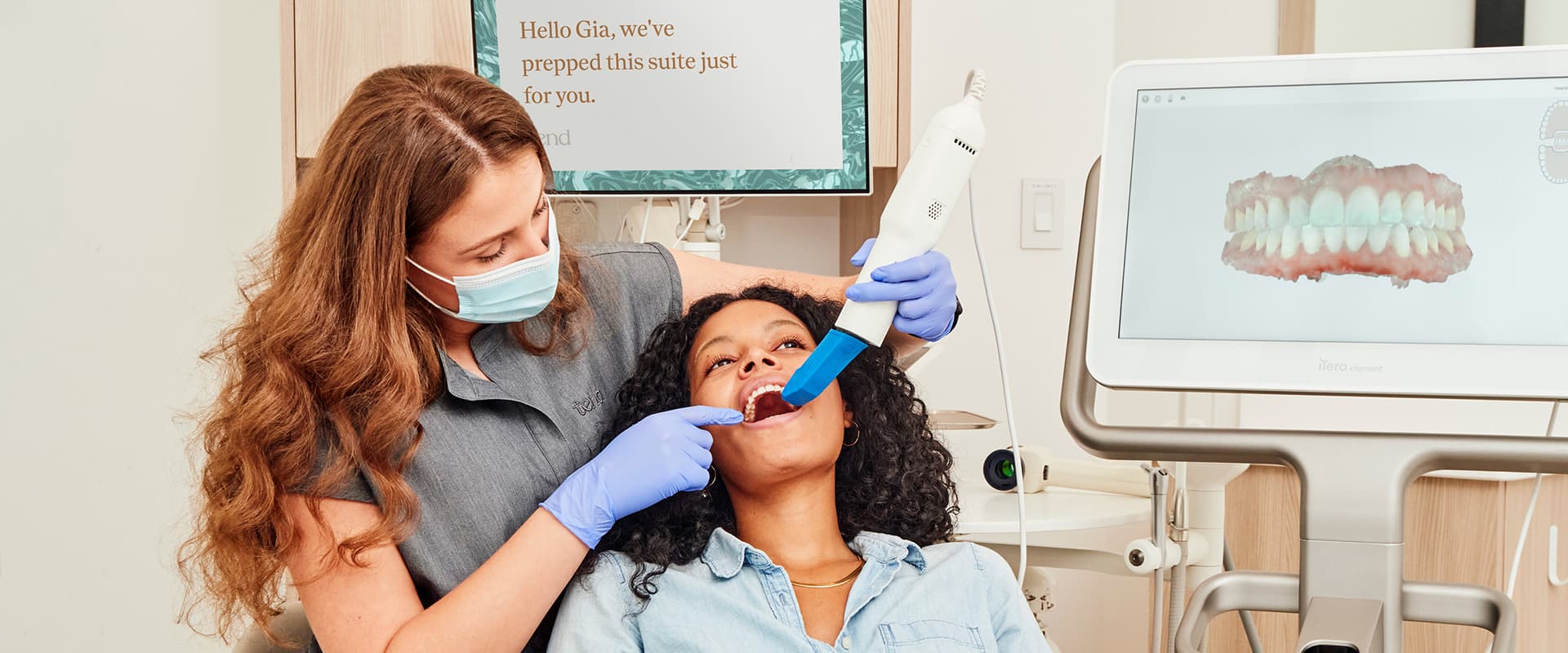 The Real Reasons to Join Tend as a Dental Hygienist
You already know about the best-in-class base pay and comprehensive benefits. Now let's talk about the real reasons Tend dental hygienists love their jobs.
When you're looking for a new job as a dental hygienist, base pay and benefits are a big consideration—and Tend offers a top-notch compensation package.
But it's just one piece of the puzzle. And there's an even bigger one: whether you'll actually love going to work every day.
At Tend, we care a lot about your experience as a team member—just like we care a lot about our patients' experiences in our studios.
So we came up with a whole host of ways to make our dental hygienists happy:
State-of-the-art technology
Paper files, printed x-rays, manually signed forms, document scans, putty molds. Sound familiar? These are a thing of the past at Tend.
We do everything digitally—from diagnosis to treatment planning—because it's faster for you, more transparent for our patients, and less prone to error.
We use the best equipment available, from quieter handpieces, to extraoral x-ray machines with 80% less radiation, to VelScopes that help visualize abnormalities you might not see. These improve the patient and provider experience together.
We also make perio charting a faster, hands-off process for hygienists with super-accurate voice recognition. You read off numbers, and your computer automatically logs them. No remembering numbers and typing them in by hand while your patient waits in the chair.
Warm, collaborative culture
You're familiar with the usual culture in a dental office: it's top-down. The dentist is in charge. Hygienists aren't empowered.
That's not the case at Tend. We think that when hygienists are empowered, patients win.
We encourage hygienists to work up to the full scope of their license—practicing shoulder to shoulder with dentists as they make diagnoses. Mutual respect? Check. Everyone valued? Check. We think that providing a great experience for everyone requires a top-to-bottom commitment to teamwork.
That's the hygienist-dentist relationship. But Tend's culture is so much bigger. Tend studios are bustling with incredible providers from diverse clinical and personal backgrounds, and we all have a lot to learn from each other. Your coworkers will rely on the unique contributions you make to the team, and you'll rely on them.
Interested in learning from, teaching, and collaborating with coworkers beyond your specific studio? Great. We have a network of studios in your city (and elsewhere), so you can expand your reach beyond your home base.
We celebrate together, too. When something goes well, we put on our party hats. An amazing patient experience? A personal milestone? A studio anniversary? Let's get everyone together, order food and balloons, take pictures, and shout it from the virtual rooftops.
An infusion of hospitality
We believe the best provider experience begins with the best patient experience.
After all, what's better than a patient who really looks forward to seeing you, who had an easy time booking online, who didn't have to wait a long time when they arrived, and who loves the soothing studio space?
All of the TLC we put into making our providers happy, we also put into making our patients happy. That's why we have 1,000s of 5-star reviews.
One way we do right by patients and providers is with longer appointment times.
Ever been asked to squeeze an entire cleaning into 30-50 minutes? That won't happen at Tend. We book 60-minute visits, so you can focus on caring for your patients and building lasting relationships—and so you don't have to spend all day running around.
We respect your schedule. We don't want you arriving early or staying late—your hours are really your hours. We build time into every shift to take care of everything you need to. Work-life balance is important to us.
Our hygienist training program
Stop us if you've heard this before: a dental hygienist starts at a new dental practice and gets thrown right in. No onboarding. No training. They're expected to learn new systems—even new skills—on the fly.
That is not what happens at Tend. We want you to feel supported and prepared from day one.
In your first week, you'll be part of a comprehensive orientation program that introduces you to the company, your team, and our systems.
From there, you'll be mentored by a lead hygienist, who will help hone your skills. Their goal is to ensure that you're set up for success—and that our members have the best possible experience.
We also have an in-house learning platform called TendU. It offers world-class courses, so you'll always have a way to sharpen your skills and build new ones.
Beautiful studios
Our award-winning studios are designed to soothe and delight our patients—and you. These are amazing environments to work in, constructed from gorgeous materials. We even pipe in our custom fragrance, Bergamist.
They're centrally located in major cities. We want our patients to have easy access, and we want our hygienists to have easy commutes.
Staff lounges are essential for recharging, and we make ours beautiful. We also load them with snacks and drinks, so your breaks feel like real breaks.
Each of our studios has a room called the Brushery where patients can clean their teeth before their visits begin. This is fun for them, and it gives our hygienists a little peace of mind about what they'll find between teeth, especially during the lunch hour!
Apply to be a dental hygienist at Tend
We're opening new dental studios near you, and we're looking for top-notch dental hygienists to join our highly skilled and rapidly growing team.
View Open Roles
Tend
The first dentist you'll actually look forward to.
Related Articles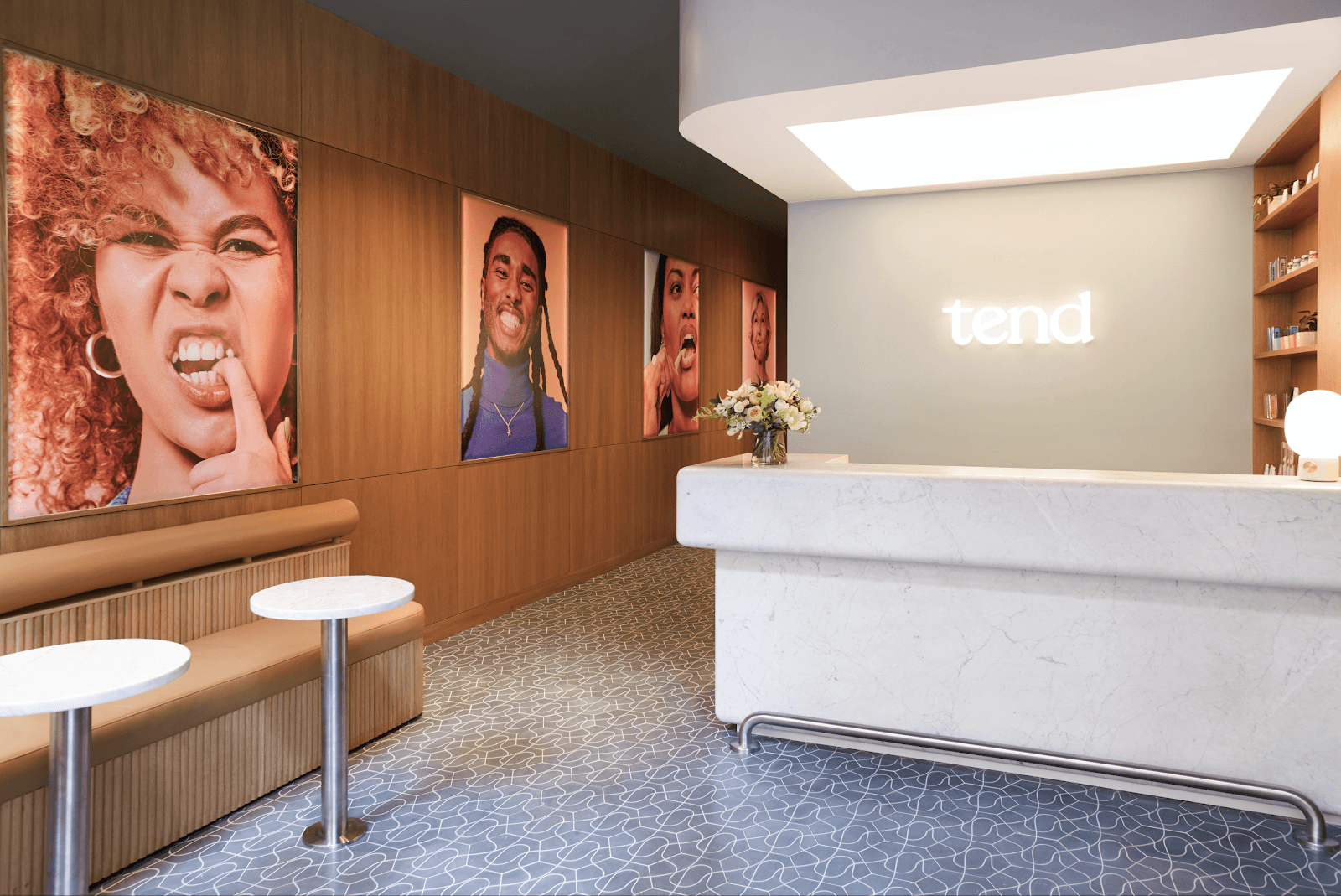 Dear Dentists
By Doug Hudson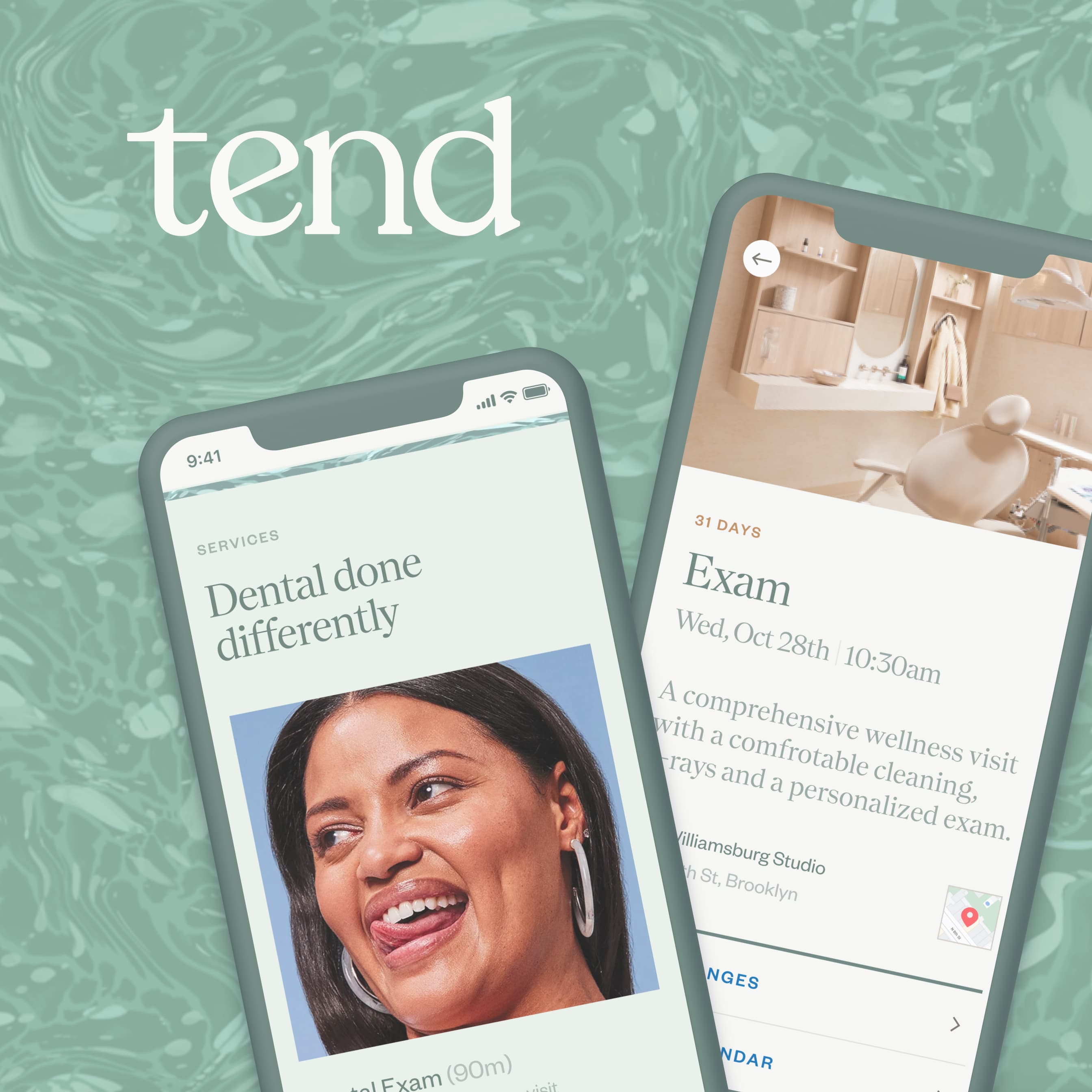 The First App from a Dentist
By Tend